At the heart of the romantic old town
Hotel zur Alten Brücke
Gaudeamus Igitur
Let us rejoice
The melody of this famous student song sounds every noon from the bell tower of our town hall ....

.... and we try to reflect this credo in our small city hotel.
The stacks of books, the comfortable armchairs, the rustic tavern and the perfect location on one of the most beautiful squares in the romantic old town are intended to capture the spirit and conviviality of our world-famous student city.
Once lodgings for venerable students, the city hotel is now the ideal starting point for exploring the romantic streets of Heidelberg's old town. 
The famous Old Bridge on the doorstep, the Heidelberg Castle a stone's throw away, the climb to the Philosopher's Walk on the other side of the river – it doesn't get much better than this!
We look forward to meeting you.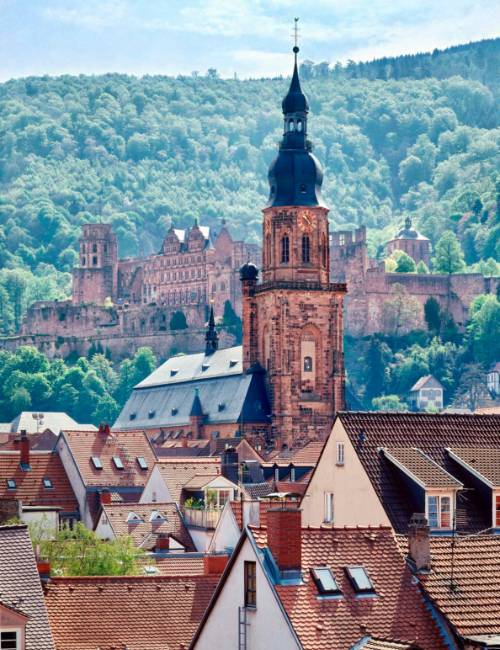 Live easy
Live well
We consciously preserve the charm of student life. Ok – so there are a few tricks and the odd wink – but at the same time the lovingly renovated Hotel zur Alten Brücke in the city of Heidelberg exudes a sense of freshness & individual vitality.
"At the Hotel zur Alten Brücke you'll feel like much more than just a guest. You'll feel as comfortable as at home – although you're still on holiday!"
Satisfy your hunger for new experiences
Enjoy & relax
Our cuisine at the Wirtshaus zum Nepomuk tavern combines traditional recipes with modern influences and fresh regional ingredients to indulge the taste-buds of our hotel and restaurant guests.
Our breakfast is a great start to the day
The benefit to you if you book direct: breakfast is included. A buffet prepared with love for a perfect day. And when the weather is nice, enjoy breakfast in our romantic inner courtyard.
Idyllic surroundings – right on the hotel doorstep
All the sights, such as the castle, the Old Bridge, the world-famous Philosopher's Walk and many more, can be explored on foot. And if you need to quickly drop off a few shopping bags – no problem. Why not rent one of our quality ebikes if you want to explore the region!
Architecture & design – dating from 1707 and interpreted for the modern era
No two rooms are the same – this is an inherent feature of the historical building from 1707. However, attention to detail, cosiness and inspiring charm are what they all have in common.
Book now!